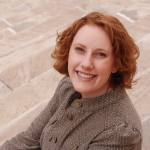 Rev Jennifer Hughes was inducted along with John Hughes at Brougham Place on February 8th 2009. The following is a brief narration of Jennifer's steps in faith and ministry:
"I grew up in a Christian family and part of the Uniting Church including church music, children's ministries and youth group. At age 17 I was surprised to be approached about working in the church. The following year I began as the Creative Arts and Music Ministry Coordinator at Rosefield Uniting Church. I had intended this to be a job while I studied but discovered that I loved working in the church, planning worship and had a desire to understand and learn more.
After graduating from my Bachelor of Science in Genetics and Psychology in 2001, I began exploring a call to ministry with my mentors. This time included an internship at Fairview United Methodist Church in Maryville, Tennessee, attending the International Christian Youth Convention (ICYC) in Belfast, Ireland and completing honours in psychology. These experiences encouraged me to consider theological study.
After being awarded an international student scholarship I undertook a Masters of Church Ministry in Urban Ministry at Southern Methodist University, Dallas, Texas, which included an internship with the Centre for Survivors of Torture. While in the United States I met John. We married in 2006 and returned to Australia for 12 months.
Since 2006 my ministry positions have included diverse experiences and several trips across the Pacific. I have had opportunities to continue theological study, serve in the Synod Office as the Solidarity and Justice Officer and serve King of Glory Lutheran Church as the Director of Discipleship. In 2008, after much prayer and discernment, John and I responded to a call from the Uniting Church to a joint placement at Brougham Place where we began ministry in February of 2009. In 2010 I began an additional placement as the Coordinator for the Centre for Music, Liturgy and the Arts."