Our stained-glass windows
The Stained Glass Windows (Beginning from rear and continuing clockwise)
Doolette Memorial Window, 1891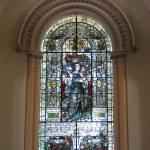 Mrs. Mary Bartlett Doolette died on 19 February 1890, and Mr. George Doolette placed a stained glass window in the northern end wall in memory of his late wife. It was dedicated the following year. The window was built by Percy Bacon of Newman Street, London, and was the first stained glass window to be erected in the church. It features the image of John the Evangelist holding a quill and manuscript, and has the message: But now is Christ risen from the dead and become the first fruits of them that slept.
Medindie Church Memorial Window, 1961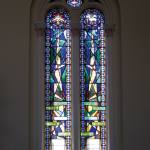 This composite window incorporates all the memorials from the Hawke Memorial Church at Medindie, which was named in honour of William Hawke, minister there from 1907- 1916. The window was donated to Brougham Place by the closing Medindie fellowship and unveiled by Miss Blanche Newman as President of the Congregational Union of South Australia.
War Memorial Window, 1919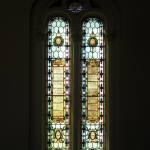 This window honours those men from this church who served during the First World War, 1914-1918. The names of 68 young men are listed, and nine of these never returned, but died in battle or by disease.
Jefferis Memorial Window, 1919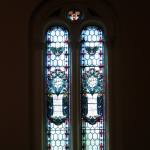 This window commemorates the life and work of Dr. James Jefferis, the first minister of the church, who served from 1859 to 1877 and again from 1895 to 1901. He was born at Bristol in 1833 and died at Encounter Bay on Christmas Day 1917. The verse on the left pane of the window is from 2 Corinthians 3:17; "Where the Spirit of the Lord is, there is liberty". The motto on the right pane is from Augustine's Confessions, "Cor nostrum inquietum est donec requiescat in Te". It translates: Our hearts are restless until they rest in you".
Centenary Window, 1959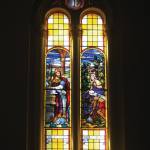 The Governor of South Australia, Sir Robert George, unveiled this commemorative window on 18 October 1959. One light is in remembrance of "Choristers and Musicians" and the other recognises the work of "Labourers in the Vineyard" over the years.
Mothers Window, 1939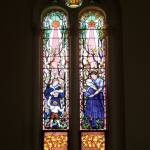 On 5 November 1939, a Mothers' Memorial window was unveiled by Mrs. Katherine Chennell. "Since the day the blessed Mother Christ the world's Redeemer bore, he has crowned them with an honour women never knew before". It was designed by Miss Gladys Good, a teacher at the School of Arts, who was a member of the church for some years. It was financed by contributions given in memory of individual mothers.
McEwin Memorial Window, 1937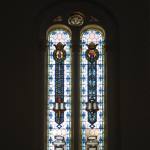 This window was unveiled on 9 May 1937. It was provided by Mr. George McEwin, a Deacon of the church, in memory of his parents, The Rev. John McEwin (1845- 1894) and Agnes McEwin, who survived her husband by 42 years. He had been the minister at Hindmarsh Congregational Church.
Calvert Expedition Window, 1937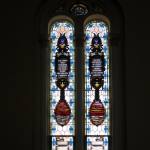 This window was unveiled by the Governor on 27 June 1937 in memory of two men who lost their lives during the Calvert expedition to north-west Western Australia in 1896-97. The expedition began after a service held in this church on 24 May 1896. The window was erected by relatives of the two men, Charles F. Wells and George L. Jones: "God grant that whenever soon or late our course is run and our goal is reached we may meet our fate as steady and straight as he whose bones on yon desert bleached."