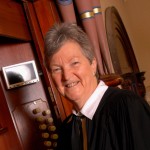 Rosemary Nairn is the Music Director and Organist at Brougham Place Uniting Church and has been associated with the choir since 2003.
Rosemary has been associated with choirs of all age groups for nearly 50 years and still looks forward to new challenges associated with music and people.
Her love for music began from a very early age. She was influenced, firstly by her mother, a great 'sight-reader', who played piano to provide the mood during the showing of silent movies in the Burra Institute in the 1920's. Then it was Rosemary's uncle, a pipe organist and later Music Director of the Robert Cosgrove High School in Hobart, who taught Rosemary to play the piano.
Rosemary worked as a piano and classroom music teacher in primary schools and has had a long involvement with The South Australian Primary Schools Festival of Music, with 9 years as 'Director of Music'. Since retiring from that position she has continued to support several schools as their choir accompanist.
In 2002 the SA Country Choral Association asked Rosemary to write a Musical Tribute ('Two Captains') to celebrate the bicentennial of the historic meeting between Matthew Flinders and Nicholas Baudin at Encounter Bay. The choir, 250 singers from Country SA, was accompanied by the Unley Symphony Orchestra, with Rosemary herself as the narrator. The work was presented in Victor Harbor, Adelaide and Port Lincoln.
In 2006 Rosemary wrote a Musical Tribute ('Tracks through the Mallee') performed by the Lameroo Regional District School for the Centenary Celebrations of the Lameroo and Mallee Districts of SA. Rosemary has warm connections with Lameroo, living in the mallee for 12 years and being an integral part of the local Border Musical Society.
Over the years Rosemary has also conducted many massed choir concerts in regional areas, especially the Eyre Celebrates and Eyre Remembers marathon concerts, as well as concerts for the SA Country Choral Association, SACWA, the Royal School of Church Music and the Uniting Church. She has had a 25 years association as Music Director with the Woodville Concert Choir, an adult choir of 70 members. She has tutored with the Young Adelaide Voices and the Australian Girls Choir (for 9 years), and has adjudicated at the Balaklava and Adelaide Eisteddfods. She has assisted in the publication of an Educational Resource Music Book for Aboriginal Studies – The Songs of Buck McKenzie.
Particularly enjoyable times have been spent as music director for many musical shows such as Oklahoma, South Pacific, Brigadoon, Desert Song, Pyjama Game, Salad Days, to name a few. This was achieved through her years with the Border Musical Society in the mallee districts, then later in Adelaide with the Metropolitan Musical Theatre, and Marie Clarke Musical Theatre.
For ten years Rosemary was choral director at Broadview Uniting Church; other choirs she has directed have been three years with the Lobethal Harmony Club, a male choir of forty voices and she has recently retired from "Illumina," a 40 voiced women's choir which she assisted in commencing in 2008. However she still trains a women's choir at McLaren Vale – 'The Sisters of Abundance'.
Rosemary also trains a Retirement Village choir in McLaren Vale, and at Christmas time assists with the McLaren Vale Regional Carols Choir for presentations at the community carols evening and local hospital.
In 2011 Rosemary was appointed Music Director of the Adelaide Harmony Choir, a choir with which she hopes to continue with for a few more years!
In 2003 Rosemary received an OAM for her lifetime quest of teaching choral work and music education throughout the community of South Australia.
Rosemary enjoys observing the inspirational and positive effect that choral singing has on people's lives.